Aliens In The Attic
Classification:
PG
Genre:
Comedy / Science Fiction
General Release Date:
09 Sep 2009
Running Time:
1 Hour 26 Minutes,
Distributor:
20th Century Fox
Cast:
Ashley Tisdale, Robert Hoffman
Director:
John Schultz
A group of teenagers end up in a vacation house in Maine, and realise that they must defend against the threat of aliens making their way from the upper floor to the ground floor.
Watch this if you liked:
"Spiderwick Chronicles," "Five Children And It," "The Chronicles Of Narnia"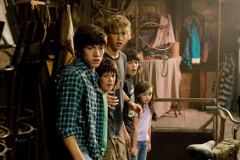 The cheesy, kids-to-the-rescue plot in "Aliens In The Attic" (formerly "They Came From Upstairs", which sounds like a horror movie if anything) is strangely by far one of the funnier and entertaining comedies for audiences this season, especially the kids. Based on the number of laugh-out-loud moments in this movie, it isn't a surprise if everyone leaves the cinema halls giggling. It must be the fun factor!
The humour in this family-oriented movie is delivered in such a way that at times the jokes are too 'cold' to be understood by younger kids. If it wasn't for the slapstick or the comical expressions by the characters in the show, you might even get blank looks among younger viewers. The knee-high aliens are the worst of all. It feels as though these little and very ugly-looking aliens, who are about to conquer the world, are a bunch of rejects from similar movies such as "The Spiderwick Chronicles". Thank goodness for their funny tiny voices, they made this just passable for child viewing.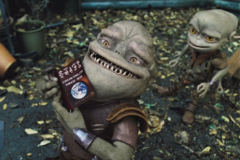 Effects-wise, it is rather commendable especially when it involves a lot of CGI scenes. Unlike some of the animated scenes between a puppeteer and a real human being in some movies, it is as if the cast in "Aliens In The Attic" are acting with real aliens from outer space. The eye contact between aliens and the kids gives us a good measure of just how realistic everything can be.
Overall, "Aliens In The Attic" boasts decent performances, especially from the younger portion of the cast. Be on the look out for talented Dakota Fanning look-alike 9-year-old Ashley Boettcher, who already has a few experiences acting in front of the camera and is poised for bigger things.
Do you agree with our review? Let us, and the rest of Singapore, know by posting your own reviews on inSing.com!