Battle

For Terra

Classification:
PG
Genre:
Science Fiction / Animation
General Release Date:
23 Jul 2009
Running Time:
1 Hour 25 Minutes,
Distributor:
Shaw Organization
Cast:
Brian Cox, Chris Evans, Dennis Quaid, Evan Rachel Wood, James Garner, Justin Long, Luke Wilson
Director:
Aristomenis Tsirbas
Playing At:
Cathay
,
Filmgarde
,
SHAW
When the peace-loving inhabitants of planet Terra come under attack from the last surviving members of humanity adrift in an aging spaceship, the stage is set for an all-out war between the two races for control of the planet. A rebellious young Terrian, Mala (Evan Rachel Wood) together with an injured human pilot, Jim (Luke Wilson) must somehow convince their leaders that war is not the answer and help the two races coexist before it's too late.
Watch this if you liked:
"Star Wars: The Clone Wars", "Titan A.E.", "Wall-E"
When you watch "Battle For Terra," it will remind you of a couple of animated movies such as "Star Wars" and "The Incredibles". However, this film tells a compelling story about the battle between humans and an alien-race in the shape of tadpole-like creatures in pursuit of claiming the planet 'Terra' as theirs after Earth was destroyed.
The plot of the movie is somewhat similar to the post-apocalyptic animated movie "Titan A.E." (2000), where Earth was destroyed and the human race is forced to fight an alien race in outer space for the survival of humanity. The only difference is that the aliens in this movie are the peaceful creatures, while the humans are the ones that are evil, more advanced and is coming to invade an alien planet for their own benefit.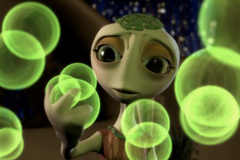 The story carries an emotional storyline and it views situations not only from one point of view, but also from the perspective of the others. It implants a thought into the audience's minds that maybe we humans could actually be more advanced than any alien race, rather than vice versa as projected in our mainstream media. The film also brings in a battle between good and evil within our kind.
"Battle For Terra" seems to lack details in graphics, making the whole animation look plain despite a good storyline. The film's graphics would have lost badly to movies such as "Ratatouille", "Madagascar", "Shrek" and "The Incredibles". In fact, even the two-dimensional cartoon "Titan A.E." had graphics way beyond what "Battle For Terra" had achieved.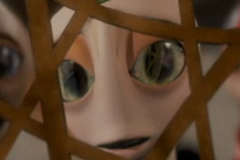 The human spacecraft designs bear heavy resemblance to "Star Wars," perhaps that is where the animators got their inspiration from. There might also have been an inspiration from live-action movie "Starship Troopers" for the alien's war vehicles as they look like bugs. "Battle of Terra" however, gives a refreshing storyline that differs from other outer space war animated films.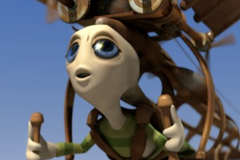 Do you agree with our review? Let us, and the rest of Singapore, know by posting your own reviews on inSing.com!