Dance Flick

Classification:
NC16
Genre:
Comedy
General Release Date:
03 Sep 2009
Running Time:
1 Hour 23 Minutes,
Distributor:
United International Pictures
Cast:
Brennan Hillard, Chelsea Makela, Damon Wayans Jr., Marlon Wayans, Shoshana Bush
Director:
Damien Wayans
A privileged white girl from the suburbs moves to the inner city and attempts to perfect her notoriously clumsy dance moves in this parody of popular dance movies.
Watch this if you liked:
"Scary Movie 4," "Epic Movie," "Disaster Movie," "Meet The Spartans"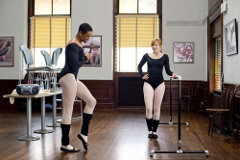 Bearing an interesting concept behind "Dance Flick", the Wayan Brothers' latest spoof involves many random popular dance movies over the years. However, the film is inexplicably focused on "Save The Last Dance," the 2001 movie starring Julia Stiles as the white ballerina introduced to hip-hop by a streetwise Sean Patrick Tomas. Shoshana Bush fills up Stiles' role as Megan, a ballet dancer with a tragic past of her mother's death, while Damon Wayans Jr. is the urban kid who is a little embarrassed to be dating a white girl.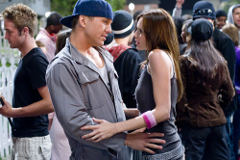 The film also stars Essence Atkins who plays the sassy black friend and single mom. While Shawn Wayans is the sheepish dad who comes in once in a while to pick up his child for a few minutes (literally), puts him back down then walk away. Other characters soon show up randomly such as the aptly named ballet instructor Ms. Cameltoe (Amy Sedaris), the uptight drama instructor Mr. Moody (Marlon Wayans), and the enormous gangster Sugar Bear (David Alan Grier), who at one point sings a show-stopping ballad inspired by "Dreamgirls" song "And I Am Telling You," but this time dedicated to snack food. The song parodies in this movie aren't bad at all namely the "Fame" inspired number "Gay!" and a theatre play "Your Momma Died In A Car Crash" complete with a full orchestra and ballet performing the death of Megan's mother.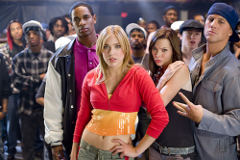 "Dance Flick" has plenty of moments from "High School Musical", "Step Up," "Step Up 2: The Streets," "Hairspray," "Stomp The Yard," "Fame," and as well as other movies that has nothing to do with dance. It shares some not-so-typical gags about Halle Berry's hit-and-run incident and Lindsay Lohan's wild nights, what more a surprisingly hilarious prom scene from "Twilight" showing a very white and glittery Damon Wayans.
The film has very limited laugh-out-loud moments and when that moment comes, you'd be glad there's some real humour left in the Wayan Brothers. In a nutshell, it tries to be funny and while the efforts are energetic, the effects are a hit and miss.