I Love You Beth Cooper

Classification:
NC16
Genre:
Comedy
General Release Date:
03 Sep 2009
Running Time:
1 Hour 42 Minutes,
Distributor:
20th Century Fox
Cast:
Hayden Panettiere, Jack Carpenter, Paul Rust
Director:
Chris Columbus
"I Love You Beth Cooper" chronicles the story of a nerdy valedictorian who proclaims his love for the hottest and most popular girl in school - Beth Cooper - during his graduation speech. Much to his surprise, Beth shows up at his door that very night and decides to show him the best night of his life. 
Watch this if you liked:
"17 Again", "American Pie", "Bring It On"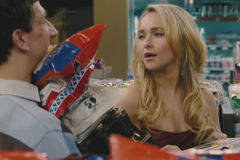 Wouldn't you be flattered if a guy professes his love for you in public? However, what if the guy is an absolute geek? That's what "I Love You Beth Cooper" is all about.
Adapted from a 2007 novel of the same name by Larry Doyle (TV's "The Simpsons" writer), this light hearted teen flick is about a Denis Cooverman (Paul Rust) spilling his heart's beans to Beth Cooper (Hayden Panettiere) on graduation day after six long years of keeping it to himself. He then follows her around to parties and other events, where his nerdy disposition provide the bulk of the comedy.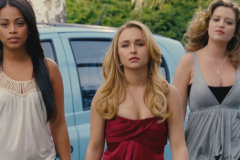 Blonde starlet Hayden Panettiere as Beth Cooper doesn't do a lot different than her previous roles like "Bring It On: All Or Nothing" (2006) or her run in TV's popular "Heroes". She's just a little bit wilder. The real attraction here is Paul Rust who does the socially challenged role with such comedic success. Sometimes you might think Michael Cera of "Juno" would've done better but Rust definitely holds his own, especially with an effeminate, "homosexual" sidekick played by Jack Carpenter.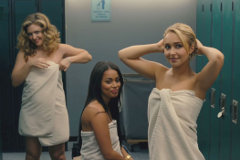 Unfortunately, they're quite a few sex jokes in "I Love You Beth Cooper" and they're nothing new, while the plot is rather stale. This is especially disappointing if you read that this movie comes from the same guy who directed one of the "Harry Potter" movies and also the iconic Macaulay Culkin family classic "Home Alone". Chris Columbus may have failed to make his as memorable as those movies, so we just have to thank Paul Rust and his Denis Cooverman character for the laughs.