Ice Age 3: Dawn Of The Dinosaurs
Classification:
G
Genre:
 Animation
General Release Date:
 01 Jul 2009
Running Time:
 1 Hour 27 Minutes, 
Distributor:
 20th Century Fox
Cast:
 Denis Leary, John Leguizamo, Queen Latifah, Ray Romano
Director:
 Carlos Saldanha
The sub-zero heroes from the worldwide blockbusters "Ice Age" and "Ice Age: The Meldown" are back, on an incredible adventure...for the ages. Scrat is still trying to nab the ever-elusive nut (while, maybe, finding true love); Manny and Ellie await the birth of their mini-mammoth; Sid the sloth gets into trouble when he creates his own makeshift family after finding some dinosaur eggs; and Diego the saber-toothed tiger wonders if he's growing too 'soft' hanging with his pals. On a mission to rescue the hapless Sid, the gang ventures into a mysterious underground world, where they have some close encounters with dinosaurs, battle flora and fauna run amok - and meet a relentless, one-eyed, dino-hunting weasel named Buck.
Watch this if you liked:
 "Ice Age," "Ice Age: The Meltdown"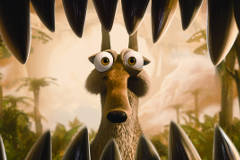 In the first instalment, we saw our sub-zero heroes protect a lost human infant, then nail-bitingly watched them escape from the massive flood caused by the melted iceberg in "The Meltdown" and now they've discovered a whole new underground world in "Dawn Of The Dinosaurs." The third instalment of "Ice Age" serves up as a refreshing animation featuring many new exciting characters: Scratte, a female sabre-tooth squirrel, Buck, a one-eyed dino-hunting weasel and a wide variety of giant dinosaurs (this time, Manny and Ellie aren't the only large mammals we see). It was a wise move from the award winning creators as they managed to keep the film fresh and exciting, whilst keeping the charm of the original stars: Manny the woolly mammoth, Sid the sloth, Diego the sabre-toothed tiger and Scrat the hapless squirrel/rat.
As the story goes, Manny and Ellie are having a baby together and this causes Sid to feel left out and want to have a family of his own, while Diego believes that he has turned domesticated. While all eyes are on Sid, he discovers three dinosaur eggs in an underground ice cave and cares for them as his own kids, decorating their shells with happy faces. Chaos then breaks loose when mom dinosaur comes in search for her children and ends up taking her hatched kids away as well as Sid. Thus, Manny, Ellie, Diego and Ellie's 'brothers' Crash and Eddie venture into an underground world of dinosaurs to rescue Sid.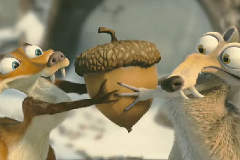 The new world that we see here in "Ice Age" comes across as a highly upgraded version of the classic 2-D cartoon "The Land Before Time." It is rich with vibrant colours and beautifully detailed scenic landscapes of waterfalls and the prehistoric terrain. From here, the insane character Buck is introduced and is a joy to watch because of his wacky antics of living alone for so long.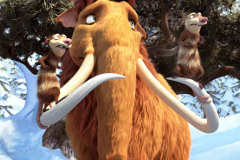 "Ice Age 3" has a couple of laugh-out-loud scenes and maintains its children-friendly jokes and sarcastic humour. The scenes involving Scrat and Scratte are irresistibly adorable as the creators played around with exaggerated expressions and comical actions. Watching them chase after the elusive acorn is a good escape from the search-and-rescue mission that our heroes are going through. Lastly, the soundtrack tunes and lyrics are witty, funny, melodic and influenced from the 1970's, which paired up well with the story. Overall, a good movie for the whole family.