Kanthaswamy
(Tamil)
Classification:
PG
Genre:
Action / Adventure
General Release Date:
28 Aug 2009
Running Time
: 3 Hours 20 Minutes,
Distributor:
NA
Cast:
Shriya Saran, Vikram, Vivek
Director:
Susi Ganesan
"Kanthaswamy" is a big budget Tamil movie starring Vikram and Shriya Saran in the lead. The main highlight of the film is Vikram's 10 different roles and the films exotic shooting location in Mexico. It entails the scenario of money laundering in India and has Vikram playing a 'Robin Hood' role. It is said to be the first Tamil film with a superhero character.
Watch this if you liked:
"Gentlemen", "Indian", "Anniyan"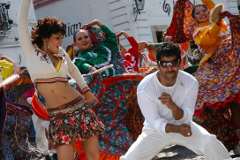 Directed by Susi Ganesan, "Kanthasamy" is a big budget movie that took more than two years to complete. The film is rich in visual and technical aspects, having a story resembling a modern day Robin Hood who fights baddies and helps the poor.
It all begins when a masked crusader called Kanthasamy (Vikram) dresses up as a rooster and goes around helping people after reading the wishes they tied in a temple tree. Policeman Pranthaman (Prabhu) wonders where our superhero gets all the money. This leads him to another enforcement officer, also named Kanthasamy (Vikram), who is on a mission to uncover money laundering. While on duty Kanthasamy raids the house of Ponnusamy (Ashish Vidyarti) and finds a huge amount of 'dirty' money. This leads his daughter Subbalaksmi (Shriya Saran) to take revenge on Kanthasamy by pretending to fall in love with him. Will she succeed? What is the link between the Masked Rooster and Kanthasamy? Will the masked rooster's true identity be exposed by the police officer?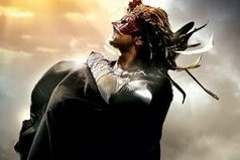 After "Anniyan", Vikram once again proves he's capable of bringing any character to life. His charisma as a masked crusader is amazing. Meanwhile, Shriya Saran is glamourous and charming in her role. Prabhu as the cop does his usual predictable role. For comedy, we have Vadivelu to bring us laughter as usual, especially when he dresses up in a fake rooster suit. Devi Sri Prasad's music is a plus point for the film especially songs like 'Excuse Me' & 'Meow Meow' which are choreographed well. Susi Ganesan has stylishly presented the movie in a fast pace. The blindfolded action scenes and songs that are shot in Mexico are excellent.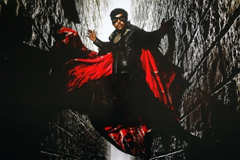 On the downside, the film running time of more than three hours could've been reduced. The story is also too similar to Shankar's "Anniyan" and "Sivaji". The masked crusader who comes after dark feels like a Batman rip-off sometimes. Overall "Kanthasamy" is a film that's been packaged well to entertain all classes of audiences with a significant message to the society. It's definitely worth your money and time.
Do you agree with our review? Let us, and the rest of Singapore, know by posting your own reviews on inSing.com!