Public Enemies
Classification: NC16
Genre: Drama / Crime
General Release Date: 23 Jul 2009
Running Time: 2 Hours 20 Minutes,
Distributor: United International Pictures
Cast: Billy Crudup, Carey Mulligan, Channing Tatum, Christian Bale, Johnny Depp
Director: Michael Mann
Set in the 1930s, "Public Enemies" is a film adaptation from Bryan Burrough's book "Public Enemies: America's Greatest Crime Wave and the Birth of the FBI, 1933-34." The story unfolds during America's Great Depression Era with the focus of FBI agent, Melvin Purvis trying to stop notorious American gangsters like John Dillinger, Baby Face Nelson and Pretty Boy Floyd.
Watch this if you liked:
"The Godfather", "The Untouchables"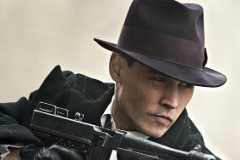 A story set during the 1930's, this true gangster saga pulls you into the fast and dangerous life of John Dillinger, a quick-witted bank robber with a punch line like "We're here for the bank's money, not yours" when a scared teller points to his cash on the table. Based on Bryan Burrough's non-fiction book Public Enemies: America's Greatest Crime Wave and the Birth of the FBI, 1933-34, director Michael Mann conveys the story with plenty of gunfight, humour, drama and thrills to keep you engaged into John Dillinger's life.
When Dillinger teams up with a handful of other associates on his bank heist - honestly, bank robbery never looked easier! The security guards were pretty useless and the blame should be put on the guards instead of the robbers themselves for the crime. The countless jailbreaks seemed pretty swift and easy-peasy for these law breakers as well. The gunfight scenes on the other hand were well executed and convincing with the artistic manoeuvring of the cinematography, but at times can be quite draggy, making it lose its appeal.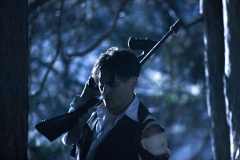 It has a couple of amusing scenes poking fun at the FBI, namely how they can't seem to recognise Dillinger walking on the streets or even years down the road, when he wears a pair of sunglasses and grows a moustache. Priceless stuff right there.
Johnny Depp is more than credible in his role as the quick witted, suave Dillinger who is also a mighty smooth talker creating heatwaves for the ladies. Depp plays the perfect gentleman who cares for the people around him, especially the woman he has the hots for, Billie Frechette played by Marion Cotillard. When Dillinger goes after her, all sorts of cheesy pick up lines come spewing out which shockingly sounds pretty good when provided by Depp.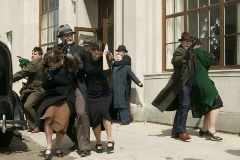 Stretched over two hours long, "Public Enemies" truly has an entertaining story to tell right from the very beginning to the end. This film is well done and could perhaps see itself robbing a few prominent awards in future, no?  
Do you agree with our preview? Let us, and the rest of Singapore, know by posting your own reviews on inSing.com!