Sunshine Cleaning

Classification:
 NC16 
Genre:
 Comedy
General Release Date:
 09 Jul 2009
Running Time:
 1 Hour 31 Minutes, 
Distributor:
 Golden Village Pictures
Cast:
 Alan Arkin, Amy Adams, Emily Blunt
Director:
 Christine Jeffs
Rose, once the most popular girl in high school, has a 7-year-old son named Oscar (Jason Spevack) and now works as a maid. Younger sister Norah is the edgier one, a party girl who lives with dad Joe (Alan Arkin). Rose's policeman lover Mac (Steve Zahn) mentions one day how much money can be made in the unsavoury specialised business of crime scene cleanup and Rose decides that it is the perfect enterprise to pay for better education for her son. She ropes in Norah to help and the two sisters get more than they bargained for.
Watch this if you liked:
 "Little Miss Sunshine"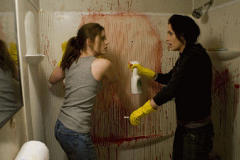 Former high school popular cheerleader, Rose is a single mom raising an intelligent seven-year-old seems to have her life at a stand-still. She works as a cleaning lady and is in a shabby affair with a married cop, Steve Zahn who is her former high school sweetheart.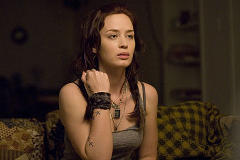 Plenty of issues surround this movie, Rose and Norah struggles with their new cleaning company ironically named Sunshine Cleaning, Rose continues her affair with a married cop, Norah keeps in contact with a deceased lady's daughter to break the news of her mother's death, Rose's son behaves awkwardly after listening to horror stories made-up by Norah, their father - well, nothing much, but he does some good somewhere. The story has quirky characters with emotional and humoristic elements here and there. However, it leaves this reviewer feeling flat as no climax could be felt.
Thankfully, a ray of sunshine can be found and it comes in the form of Amy Adams who plays the main character Rose. The "Ella Enchanted" star has always seemed so genuine in her performance, projecting honesty, integrity, vulnerability and strength into Rose's character. This bubbly girl here can morph from a Disney chick to a single mother with emotional issues. Emily Blunt does well as a rebellious yet helpful sister and Clifton Collins Jr, a one-armed man who owns a cleaning store exudes a sweet charm, adding a good dimension for Adam's possibly new prospect.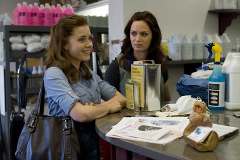 "Sunshine Cleaning" needs some cleaning up to do because the story itself seemed dull.
Do you agree with our preview? Let us, and the rest of Singapore, know by posting your own reviews on inSing.com!