The Hangover

Classification:
NC16
Genre
: Comedy
General Release Date
: 30 Jul 2009
Running Time:
1 Hour 40 Minutes,
Distributor:
Warner Bros
Cast:
Bradley Cooper, Ed Helms, Heather Graham, Justin Bartha, Zach Galifianakis
Director:
Todd Phillips
Playing At:
Golden Village
,
Cathay
,
Filmgarde
,
SHAW
,
Eng Wah
When one of their best friends goes missing, three groomsmen played by Bradley Cooper, Ed Helms and Zach Galifianakis must retrace their last 40 hours at the Caesars Place bachelor party where they lost him. They must now figure out what happened in their drunken stupor and save their about-to-be-wed friend.
Watch this if you liked:
"Wedding Crashers", "I Love You Man", "Road Trip"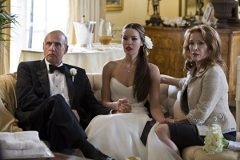 As often said, never has the saying 'what happens in Vegas, stays in Vegas' ringed true as it does here. The concept of "The Hangover" is simple and straight to the point. Summer blockbusters seem to primarily become the domain of special effects, yet there is constantly a high demand for few feel-good comedies as well. While the ones with biggest stars tend to get the most attention, for this movie, it may be a different story.
"The Hangover" is definitely a guy movie. It's got laughs, drugs, strippers and also cameos by famed boxer Mike Tyson. Directed by Todd Phillips, "The Hangover" is about three groomsmen, Phil Wenneck (Bradley Cooper), Stu Price (Ed Helms) and Alan Garner (Zach Galifianakis) who goes on a celebration of manly freedom before one of their friend, Doug Billings (Justin Bartha) gets married. After a wild and crazy night, they wake up the next morning unable to remember a thing, especially where the groom is.
The concept and plot of the movie may be similar to any other films that focuses on a groom who goes missing after a bachelor party, but it looks like Phillips directed it well by twisting the story into a one crazy night that went wrong. One of the film's greatest strength is the way the story is told. The audience is kept in suspense as the mystery unravels, essentially in real-time.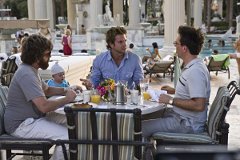 The chemistry between the cast is great! Even though "The Hangover" does not have A-list actors in it to help draw the attention in, nonetheless Cooper ("Yes Man"), Helms (TV series "The Office") and Galifianakis ("What Happens In Vegas") really made the movie work. None of these guys overshadow each other, instead they create a dynamic that is natural, entertaining and reliable as a group of friends involved in a bachelor party gone wrong in Las Vegas. This reviewer felt that Zach Galifianakis stole the show with his natural acting and ability to crack jokes effortlessly.
"The Hangover" certainly stands up to be hilarious and very entertaining. This is definitely a movie to watch!
Do you agree with our review? Let us, and the rest of Singapore, know by posting your own reviews on inSing.com!