The Proposal

Classification:
PG
Genre:
Comedy / Romance
General Release Date:
20 Aug 2009
Running Time:
1 Hour 48 Minutes,
Distributor:
Buena Vista International
Cast:
Craig T. Nelson, Ryan Reynolds, Sandra Bullock
Director:
Anne Fletcher
"The Proposal" focuses on an arranged marriage, this time between a demanding female boss (Bullock) faced with deportation who agrees to a sham engagement and marriage with her young stressed out and henpecked male assistant (Reynolds) to avoid being sent back to Canada.
Watch this if you liked:
"Meet The Parents," "Maid In Manhattan," "My Best Friend's Wedding"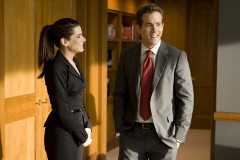 Surprisingly "The Proposal" fared quite well, somewhere above the average its-either-you-love-me-or-you-hate-me type of romance genre that Hollywood has been offering all these years. However it was no surprise to see Sandra Bullock making a grand entrande with her expensive custom-made suits as one of the highest-flying Editor-in-Chief in New York. From her bus-driving days in "Speed" to her criminal-busting detective in "Miss Congeniality," Bullock has improved tremendously and in this movie she invites the audience to empathise with her as pushy boss Margaret Tate.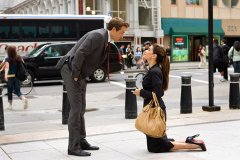 The movie is funny and entertaining but falls short of being great. This time-tested, fish-out-of-water story can get a little draggy. Expect some yawns when the jokes seem too forced or try too hard. Also, the transition from upper class New Yorkers to quiet town Alaskan folks (part of the story) doesn't seem to convince at first but as it progresses, everything falls into place like pieces of a jigsaw puzzle. It's a good thing that unlike most rom-coms, "The Proposal" is more of a family-oriented love story. The strong message behind this movie is suitable for couples, friends and even family alike.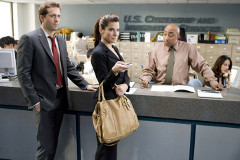 On another note, "The Proposal" easily passes as a National Geographic outdoor assignment of some sort. With scenic shots around Alaska to the misty hills of Ritka and the great Alaskan sea, it makes perfect sense if couples were to 'pop the question' in such awesome landscapes.
One thing to keep in mind though - don't leave just yet when the credits roll. Stay for a minute or two to catch the funny Q & A sessions with the characters. You may find yourself grinning from ear to ear!
Do you agree with our review? Let us, and the rest of Singapore, know by posting your own reviews on inSing.com!