The Ugly Truth

Classification:
NA-16
Genre:
Comedy / Romance
General Release Date:
17 Sep 2009
Running Time:
90 min
Distributor:
Sony Pictures Releasing International
Cast:
Bonnie Somerville, Bree Turner, Gerard Butler, Katherine Heigl
Director:
Robert Luketic
A romantically-challenged morning show producer (Katherine Heigl) is embroiled in a series of outrageous tests by her chauvinistic correspondent to prove his theories on relationships and help her find love. His clever ploys, however, lead to an unexpected result.
Watch this if you liked:
"He's Just Not That Into You"
"The Ugly Truth" is hilarious! Although it bears a typical rom-com storyline, it exceeded this reviewer's expectations by a mile. The 'oomph' that made it stand out the most was that it had plenty of raunchy sexist humour, which at times comes across as unexpected but still in line with the film's theme of male/female relationships. The truth may have been ugly, but it's also delightfully side-splitting!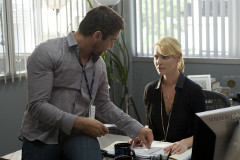 In this film, two main characters whom initially dislike each other eventually... falls in love. Abby Richter (Katherine Heigl), the producer of a morning TV chatfest in Sacramento, is a control-freak who keeps herself fully prepared on every occasion, even on dates (which includes the person's full background check). When the time came to up the ratings, Abby is forced to accept the arrogant Mike Chadway (Gerard Butler) onto her show to host his own session called 'The Ugly Truth', where he bluntly lays down the reality about relationships, mostly from a man's perspective. Eventually, Mike lays on the verbal testosterone and even gives Abby hints on how to get a guy interested in a girl.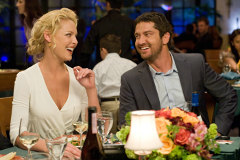 There never seems to be a dull moment as each scene has its perks. It has many amusing moments, many involving actress Katherine Heigl where she lands herself in awkward situations concerning her or someone else's area below the waist. Katherine has always been good in comedies and this one is no different. She continues to perform well playing an obsessive and controlling producer believing she could change herself for someone, but in vain. On the other hand, "300" star Gerard Butler also gets to show his romantic side (not a role that you would expect to see coming from the King of Sparta).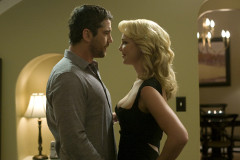 "The Ugly Truth" bears some pretty interesting lines such as 'How many times do you, you know... flick your bean?', 'Well, be sure to thank your pussy for me.' and 'It's not for you, it's for your bean.' So if you are expecting to see just a typical rom-com, you'd be surprised because this NA-16 rated film is geared towards the men in the audience as well as the ladies.
Do you agree with our review? Let us, and the rest of Singapore, know by posting your own reviews on inSing.com!