Threads of Destiny
 
Classification:
G
Genre:
Romance
General Release Date:
23 Apr 2009
Running Time:
1 Hour 46 Minutes,
Distributor:
Cathay-keris Films
Cast:
Junpei Mizobata, Nao Minamisawa
Director:
Shousuke Murakami
The story revolves around the 'red thread of fate' connecting the young pair, Mei (Nao Minamisawa) and Atsushi (Junpei Mizobata) and the trials they face during their high school period. Their romance blossoms when she meets a gentle-natured boy named Atsushi during a school trip to Nagasaki with close camaraderie of her school friends. The two begin to realise that they share many things in common that seem to transcend mere coincidence. Feeling a bond of fate, they grow closer. However, destiny can have a dark side to it too.
Watch this if you liked:
"A Litre of Tears", "Koi Wa Mai Orita"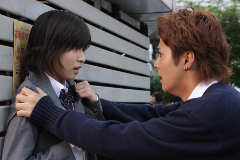 Beware of the saccharine sweetness of a teenage love. Originating from Chinese legend, "the red string of fate" myth that states the gods tie an invisible string around the ankles of men and women who are destined to be soul mates and will one day marry each other, "Threads of Destiny" is one romantic flick about fate that entwines lives.
"Threads of Destiny" have been one of the most distributed online serialised novel in Japan, and one of the most sensational reading material on a Nihon cellphone. That is reason alone for it to be turned into both feature film and TV series. Like the hype that is Habiburrahman El-Shirazy's "Ayat-Ayat Cinta" in Indonesia, "Threads of Destiny" (or "Akai Ito" in the land of the rising sun) is a big hit in its country and thus bringing it to our shore seems to look like a good idea.
It is, for the young minds yet to be corrupted with heart aches and maybe, lengthy internet bills from all that chatting with supposedly 'the one'. But for the cynical at heart who sees nothing in the magic of love, destiny and romantic coincidences, "Threads of Destiny" would only remain a bundle of threads that only tries to - as the Malay idiom would say; "Menegakkan benang yang basah".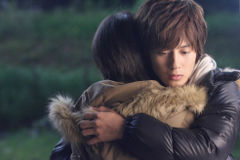 There is something inexplicable about the performances of its young casts. Cutesy Minamisawa Nao may have the look that will be adored by many but yet as the lead character Mei, her ambiguous expressions and incoherence seem to decapitate audience's sympathy for the character. Mizobata Junpei as Atsushi succeeded in showing the maturity of his character but still could not attract much attention. The dialogues were too linear and sometimes obviously preachy, especially when talking about the subject of drug addiction.
The saving grace of this film is its cinematography and its storyline. Plot-wise, it's an effort that can be awarded with praises. For a teenage love story, it is filled with post-pubescent ideals about love, friendship, and even discussion about social issues that floods the Japanese youth of today. For those who believe in soul mates and that 'love will find a way', this will suit you to a T. And for the rest of amoral beings of the world, your destiny forbids you from it.
Do you agree with our review? Let us, and the rest of Singapore, know by posting your own reviews on inSing.com