Where Got Ghost?
Classification:
PG
Genre:
Comedy / Horror
General Release Date:
13 Aug 2009
Running Time:
1 Hour 46 Minutes,
Distributor:
Golden Village Pictures
Cast:
Henry Thia, Jack Neo, Mark Lee
Director:
Jack Neo
Jack Neo's 3-in-1 horror with Singaporean humour will include "Roadside Got Ghost", "Forest Got Ghost" and "House Got Ghost".
Watch this if you liked:
Jack Neo movies
For once, forget all the big movies that are currently playing at your cinema and try switching to Jack Neo's latest "Where Got Ghost?" because this three-part storytelling isn't something as confusing as one would think. Instead each story is told in its own, complete and standalone way.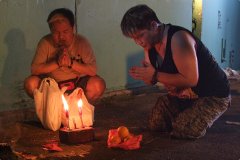 If comparing to horror movie spoofs like "Scary Movie," this Singaporean addition is best described as funny, entertaining and tear-jerking at the same time. Being labelled as the new "hor-medy" (horror comedy), "Where Got Ghost" tells three different stories with three different meanings and moral values. Isn't moral values an essential part of Jack Neo movies? The uniqueness in presenting each plot is one of the many commendable aspects.
In this new release, there are plenty of CGI, especially those in "too gory" scenes. The good ghostly effects seem to hide the fact this is just a project from Singapore and not a multi-million Hollywood blockbuster. Goosebumps are in order! You laugh when you're supposed to laugh and you get scared when you're supposed to be scared.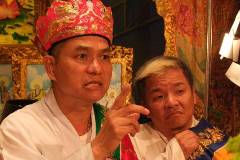 Of the three segments in this movie, the one that stands out is "Forest Got Ghost". An online search will tell you that the director and his crew actually encountered spooky incidents while shooting this part in the forest. Strange graphics began to appear on their shooting equipment while damages to machines also make up a pretty unforgettable night for the crew.
Perhaps what you'd least expect from this movie is that younger children will also enjoy it as much as adults. Simply listen to the sound of laughter around you when any ghostly apparition appears on the screen. You'd say that "Where Got Ghost" is definitely an interesting way of telling horror stories to the general public. Check it out whenever you're ready for the experience.
Do you agree with our review? Let us, and the rest of Singapore, know by posting your own reviews on inSing.com!